GoldFix Weekly: Banks Get Bullion Bypass Friday Night
VBL
Welcome. GoldFix Weekly is original content. It recaps salient points related to: trading, risk, options, and market structure. Insights and lessons are offered from experience and academia. The goal is to give you, the reader, some basis for looking at markets as you prepare your own trading week. Second, it aims to give you more tools, or at least the basis for developing your own tools to navigate markets. To that end we expect there will be changes based on feedback. Gold is the jumping off point for all markets.
This Issue
Markets: weekly summary

Precious: gold summary

Tools: educational videos

Technicals: active trading levels

Charts: related markets

News: three stories

Calendar: next week

Disclaimer: read this
1. Markets
Capital Markets Summary
The first half of he week was largely uneventful. Then Thursday happened. Thursday's mini rout started with an extremely poor opening in the form of the 4th lowest NYSE TICK print ever. But by Friday's open it was over and done. Stocks rose to new all time highs. Bonds, which were strong most of the week, and in particular during the downdraft Thursday reversed on Friday. Ten Year Yields closed just above the 200 day moving average.
The USD started the week strong but turned downward on Thursday despite the "flight to safety" in other markets. It continued lower Friday. We think given the light domestic week on data and the bigger reports coming out of Asia that those markets had bigger effects than usual on the US. Next week, however, is a big data week for the US.
ES, NQ, Bonds, Oil
Cryptos recovered some of their recent losses, but remain well below level hit earlier this week. There was less negative news in the weekly cycle which suggests the market may breath a little. In fact, this weekend positive news was announced that may have important long term effects on Bitcoin and MicroStrategy.
Oil netted out slightly lower on the week after it had its own scare from fears of argument in the ranks at OPEC+. The other important economic information centered on China easing capital requirements which helped bolster markets starting Friday morning in Asia.
2. Precious
Activity Recap
Gold had a wild week intraday, but at the end of almost each day it seemed to balance out. The action was on the buy side all week and most of that came out of London. Between 2 and 4 a.m. US ET almost every night we saw buying. Then during US hours we saw mostly selling but not the panic type usually seen. Most likely this is related to books being squared up from the Basel 3 implementation, both current and delayed, (see News below)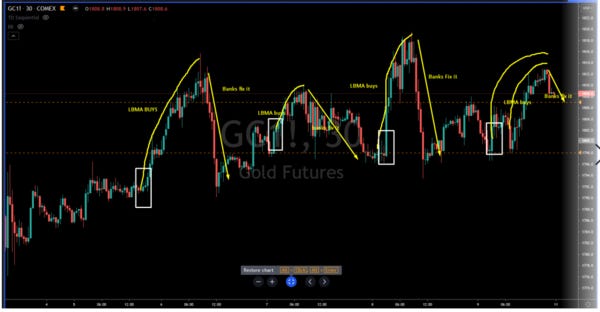 Silver was worse off and on 4 days it did not rally with Gold. When gold rallied, it meandered. When Gold sank, it dipped more. And on one day when Gold was relatively strong, Silver followed Copper's and the PGM's lead and dropped.
Overall it was a constructive week and we are not concerned about Silver's lack of follow through. We are more encouraged by Gold ignoring weak bonds for a change and by its ability to remain strong on up days in the DX. This suggests real buy interest in the wings for now at least. We are near $1800 and $26.00 in the markets. Do not be surprised if volatility gets sold for a while.
3. Tools
Educational GoldFix Clips- Best of the Week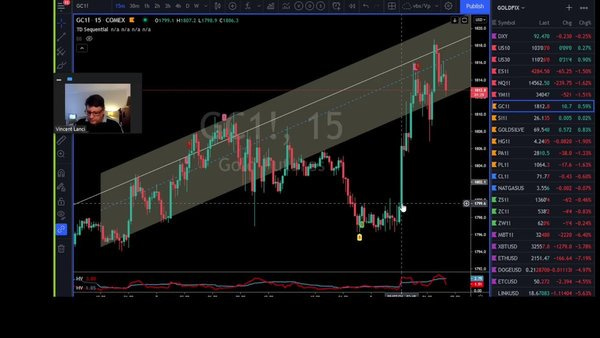 CLIP: Basel 3 and LBMA dynamics https://t.co/jBbwQeaczN
Sunday Melonhead Class
Sunday:
1-Gold: Volumes and Open Interest in Combination tells you if it is Funds or the Banks playing
2-Mock Trading: with real money
3- Risk/Reward Edge.
Reminder: change names to twitter handles pls.

Best https://t.co/RtR9tNSLkU
Post on Zerohedge in which the merits of technical analysis are discussed. Palisades Radio's . full interview library HERE
4. Technicals
Friday's GoldFix Levels Courtesy MoorAnalytics.com
Upside:
Look for lower timeframe exhaustion in the $1,819.5-20.0 area. If we break above $1,819.5 and back below, look for pressure to come in. Look for lower timeframe exhaustion in the $1,826.4-6.5 area. If we break above here and back below look for pressure to come in. Look for exhaustion in the $1,834.6-6.4 area. Sell against $1,845.7-6.3. Sell against/into $1,854.6-62.9 as possible exhaustion.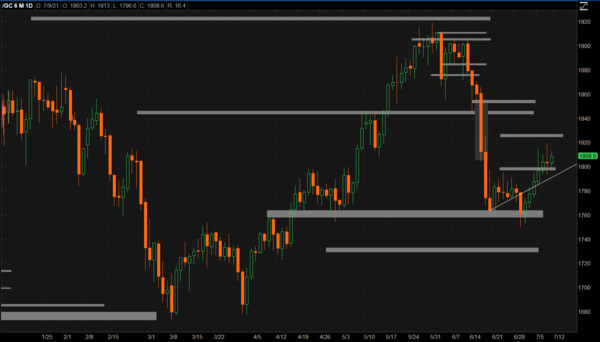 Some Moor levels shown
Downside:
If we break below $1,790.2 and back above WITHOUT breaking below decently, look for short covering to come in. Buy against $1,777.9 (-.5 of a tic per/hour starting at 8:20am) on the way down; get short on a decent penetration and/or pullback below and look for continued pressure to come in. Get short below $1,768.0-5.9. If we break below here, or even just below $1,768.0 and back above, look for short covering. If we break below $1,750.1 and back above, look for short covering to come in.
Go to MoorAnalytics.com for 2 weeks reports free
5. Charts
Related Markets
Gold
Silver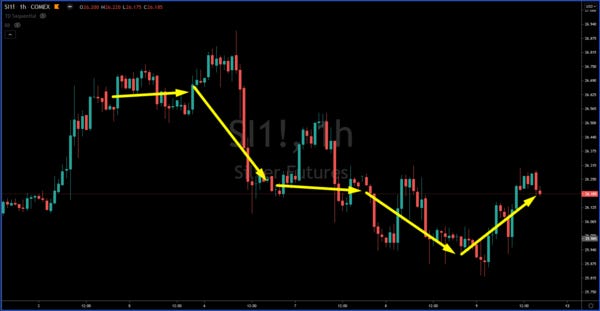 US Dollar
Bitcoin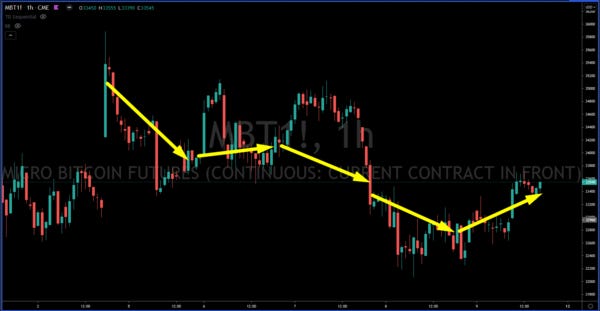 6. News
Some relevant news from a trading perspective
1-Britain carves out exemption for gold clearing banks from Basel III rule: Reuters
[EDIT- Emphasis ours- VBL]
Banks clearing gold trades in London can apply for an exemption from tighter capital rules due in January 2022, a British regulator said on Friday, removing what some said was a threat to the functioning of the market. The London Bullion Market Association (LBMA), an industry body, has lobbied against them, saying they are unnecessary and could force some banks – including clearing banks - to stop trading.
Following a consultation, the Bank of England's Prudential Regulatory Authority (PRA) said on Friday it had "decided to amend its approach to precious metal holdings related to deposit-taking and clearing activities."
It said it had introduced an "interdependent precious metals permission" which would reduce the size of the required capital buffer. "This is one of the key points that what we've been asking for all these years," said Sakhila Mirza, the LBMA's chief counsel. "Clearing will be exempt."
The PRA said it would not classify gold as a high-quality liquid asset, which would have freed other trades such as precious metals loans and leases from the high capital requirement.The LBMA says gold is liquid enough not to need an additional liquidity buffer for clearing and settlement and short-term transactions. -Source Reuters
Takeaway 1: This sucks, sell Gold

Takeaway 2: The Banks are going under and need to be bailed out. buy Gold!

Net-Net: Past behavior tells you this could to happen. They cannot jeopardize liquidity at the clearing level. They must have a smooth transition. Costs will be passed downstream, and profits will be strong upstream. The power will consolidate into even fewer banks. If you hear about it, they already know it. This is another gift to stackers and day traders. The banks grow stronger, the funds and end users grow weaker. Buying to hold never made more sense. That is what the central banks are doing. The banks cannot be bagholders. The GFC told us that banks are to precious. Buy Gold because you like Gold, not because you hate banks.
Gentlemen, this is hot off the press. I think we need some analysis of the implications caused by this Bank of England decision: @andrewmaguire1 @MacleodFinance @Dioclet54046121 @VlanciPictures 👇
https://t.co/iwltdUVqmU
2-Gold prices steamrolling toward $2,000: Goldman Sachs
Gold prices are finally catching a long-awaited bid as inflation fears have subsided, and Goldman Sachs analyst Mikhail Sprogis said the upside move is only just beginning.
Sprogis reiterated his $2,000 an ounce price target on gold prices in a new research note this week, voicing optimism amid the backup in Treasury yields and easing inflation concerns.
"As a result of the liquidation, gold is now again pricing a Goldilocks scenario of moderate inflation and continued global recovery and is thus trading at a large discount to the current real rate. We estimate that the current gold price is consistent with a real rate of 0.1% vs. the -0.87% that is currently priced by the market. In our base case that the global recovery continues uninterrupted and inflation remains subdued, we expect this discount to persist and see just modest upside to gold, driven by only a small increase in real rates and a continued improvement in EM wealth," Sprogis contends.- Source: Yahoo
Takeaway 1: Buy Gold!

Takeaway 2: Goldman needs someone to hold their bags

Net-Net: It's marketing. Why recommend gold 'after inflation peaked'? Sometimes they say it to get you to buy, sometimes they say it to get you to buy from them. You can't know. But when they want to be taken seriously, they trot out the Currie. This is just space filler like an advertisement. Same firm will tell you to buy bitcoin in a different part of the world if you are long gold. See next story
3-Gold is not the optimal store of value: Goldman Sachs
Goldman Sachs investment strategy group released a report titled "Digital Assets: beauty is not in the eye of the beholder," in which the investment banking giant wrote about the world of cryptocurrencies.
The report stated that the purpose of the insight was to "address our clients' questions" by analyzing the desirability, even viability, of cryptocurrencies as an investment asset class and examining a possible role for cryptocurrencies in our clients' customized strategic asset allocation process, within the framework of our investment philosophy."
A section of the report focused on hedge inflation or deflation as a store of value with Goldman Sachs stating that Gold is not an optimal store of value. Gold was introduced into the analysis because people have claimed Bitcoin to be the "Digital Gold."
Goldman Sachs looked at the performance of Gold to shows that even if Bitcoin is supposedly Digital Gold, the commodity itself (Gold) has not been an effective hedge against inflation as most people think it has been.
The report went further to state that the only asset class that hedges inflation on a consistent and reliable basis is US equities. US equities have outperformed inflation 100% of the time over any 19-year window. Gold outperforms inflation only about 50% of the time over a 19-year window. It concluded that owning US equities is a better long-term inflation hedge. Source: Nairametrics
Takeaway 1: Sell your gold buy Bitcoin.

Takeaway 2: Don't be stupid, they are saying that stocks are better than Gold, and Bitcoin is like Gold. Aren't they?

Net-Net: Vague recommendations that allow you to fill in the blanks as you see fit are the way they get you to respond to their "poll". Different part of the world, different sales pitch. Change the channel. But be aware the same thing happens to you.
7. Calendar
Some of the upcoming week's key data releases and market events
MONDAY, JULY 12
TUESDAY, JULY 13
6 am NFIB small-business index June

8:30 am Consumer price index June

8:30 am Core CPI June

2 pm Federal budget June
WEDNESDAY, JULY 14
8:30 am Producer price index June

2 pm Beige book
THURSDAY, JULY 15
8:30 am Initial jobless claims (regular state program) July 10

8:30 am Continuing jobless claims (regular state program) July 3

8:30 am Import price index June

8:30 am Empire state index July

8:30 am Philadelphia Fed index July

9:15 am Industrial production June

9:15 am Capacity utilization rate June
FRIDAY, JULY 16
8:30 am Retail sales June

8:30 am Retail sales excluding autos June

10 am Consumer sentiment index July

10 am Business inventories May
Main Source: MarketWatch
Subscribe for Mailbox Delivery Here

HERE: actual quotes from research sent out the same week by GS.

This is us reading the reports https://t.co/zQD2bgPwYB
8. Disclaimer
Disclaimer : Nobody is telling you to do anything here. Anybody who tells you to do something without first intimately knowing your personal situation is irresponsible at best and manipulative at worst. Worse, anyone who acts on other people's opinions without first doing an inventory of their own situation shouldn't be surprised if they lose money.
Don't miss out on the other issues by VBL
Become a member for $30 per month
You can manage your subscription here.
If you don't want these updates anymore, please unsubscribe here.
If you were forwarded this newsletter and you like it, you can subscribe here.
Created with Revue by Twitter.