GoldFix Weekly: "Inflation is Half Our Mandate"
VBL
Welcome. GoldFix Weekly is original content. The goal is to give you, the reader, some basis for looking at markets as you prepare your own trading week. Second, it aims to give you more tools, or at least the basis for developing your own tools to navigate markets. To that end we expect there will be changes based on feedback. Gold is the jumping off point for analysis.
This Issue
Markets: weekly summary

Precious: gold summary

News: stories on metals and markets

Technicals: active trading levels

Tools: educational videos

Charts: related markets

Calendar: next week

Disclaimer: read this
1. Markets
Capital Markets Summary
Real economic data is slumping, the virus is re-emerging in a more contagious variant, and China's Capital Markets are collapsing. Yet US stocks are at record highs.
The S&P was up for the 6th straight month, its longest streak since 2018 (but fell 0.5% today - its worst day in two weeks). Tech stocks had a horrible time of it with big tech like Amazon and Apple showing good earnings but guiding horribly lower before recouping some losses.
China's stocks suffered the most since Oct 2018 with the Shanghai Comp diving. Yet US stocks seemed to not take notice. In the US, the FOMC was the most interesting driver in markets with the GDP miss being a close second.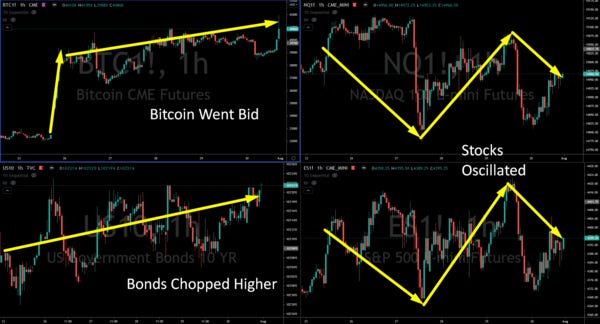 Stocks, Bitcoin, and Bonds
The Dollar ended the month flat with violent gyrations. Commodities were mixed on the month with gold up, silver down, copper up and crude flat. Bonds were stronger and real yields went more negative. Cryptos also had a rollercoaster month but Bitcoin and Ethereum ended significantly higher.- Full Recap
2. Precious
The Fed has two official mandates: Full employment and price stability. Recently, the Fed tweaked the definition of price stability to mean stable inflation. Stable inflation we are now told is good for us. A slow orderly debasement of our currency and concurrent price increases on the stuff we buy to live is apparently what they now mean by stable prices. Once you understand what they are doing (moving the goal posts again) then the 21 second clip below is not a Freudian slip. It is more of a full disclosure by Powell.
CLIP: Half Our Mandate is to Inflate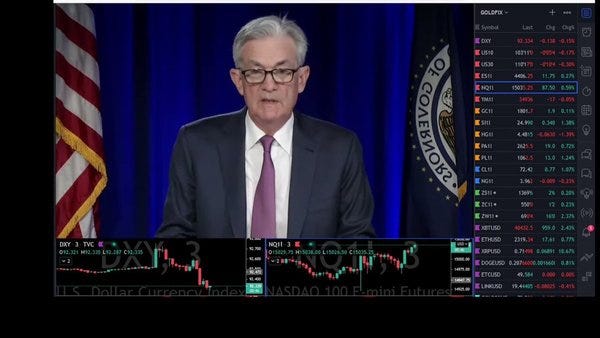 " Inflation is half of our mandate" https://t.co/194Jewxapx
Full FOMC conference HERE
Please note that the last comment was not him correcting himself. While he seemingly corrects himself with, "price stability is half our mandate" he was telling us that inflation equals price stability. This was not a backpedal. It is a frequently used approach to link contradicting concepts. "That's an ugly hat. It looks good on you," comes to mind.
Powell said several other things the markets took as more bearish for the dollar than he probably expected. He also tried to define transitory inflation in light of the insane spikes in certain goods. He said at one point 'Transitory means it stops going up, but doesn't go back down.' That lead to several Fed watchers charting his definition with comedic irony.
We good?
Ht @jebus911 https://t.co/MlkZyFckVi
Activity Recap
Gold started the week sideways well within the $1800 strike range. Tuesday saw it hold steady even as Silver took a hit. Thursday was when the fireworks started. The FOMC meeting notes came in, and while the announcement was as expected, the other info as alluded to above, painted a different picture in the longer run for us.
And so due to real yields going more negative, Powell's mandate comments, and a complete lack of conviction by the bears for now, Gold broke away from the gravitational pull of the $1800 strike, only to close back down on the edge of orbit reentry.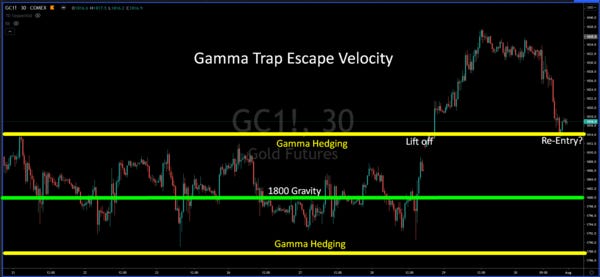 Option Influece Revisited
We should have no illusions that the Fed are not serious about debasing the currency. His definition of inflation using double speak was absurd and contradicted itself. They know exactly what they are doing.
Here's a graphic of real rates versus Gold and Silver as provided weekly by our friend "HedgedIn"- Click to follow him.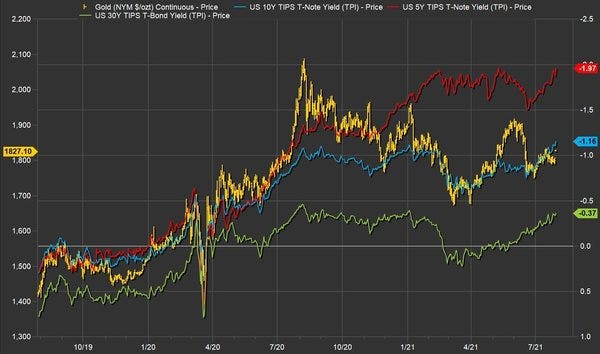 Gold and Realz @VlanciPictures @SolidusMax
added silver https://t.co/dmt1KyWkeo
3. News
Some relevant news from a trading perspective
1-Printing dollars to pay US deficit affects entire global economy — Putin
NOVO-OGAREVO, July 27. /TASS/. Issuing more dollars to cover the budget deficit in the United States affects the entire world economy, Russian President Vladimir Putin said, opening a meeting on economic issues on Tuesday.
According to him, inflation in the United States has exceeded 5% with a target of about 2%, and the United States has been making up a budget with a 15% deficit for two years in a row.
"So they cover this deficit at the expense of what? At the expense of the issue [of the dollar]. This is where inflation comes from," Putin said.
"Of course, this affects entirely and completely the world economy, considering the importance of the American [economy] for the whole world and the largest, most in-demand reserve currency," he said.
Speaking at the meeting, Putin invited the participants to focus on how the Russian economy is overcoming the aftermath of the coronavirus pandemic.
"We see that the global economic recovery continues overall, with quite high rates, though this process is connected with inflation risks as well," he said.
Kremlin Spokesman Dmitry Peskov said earlier that Kremlin Chief of Staff Anton Vaino, Russian Presidential Aide Maxim Oreshkin, First Deputy Prime Minister Andrei Belousov, Economic Development Minister Maksim Reshetnikov, Finance Minister Anton Siluanov, and Central Bank Chief Elvira Nabiullina were all taking part in the meeting. - Source: TASS
Takeaway 1: Sell the dollar oh no!

Takeaway 2: Stop it, he's just jawboning and playing to his home base

Net-Net: This is normal rhetoric from Putin, especially for his domestic audience. He also does it before meetings with the west. Do not get numb to the rhetoric. Russia is heavily de-dollarizing by buying gold and if the opportunity ever comes, they will push on the fracturing USD reserve currency status with China by their side.
2-Warning: Robinhood IPO is One of the Most One-Sided Casino Offerings in History
For those that haven't read Robinhood's 360-page S-1 and subsequent registration amendment, some brief observations follow on some of the most egregious aspects of one of the most one-sided, enrich the insider casino offerings I've ever seen, and there have been some doozies.
This Tweet Thread by Chris Bloomstran is a must read for anyone thinking of investing in Robinhood.
Here are the first 4 of over 40 tweets on the topic. The author did his due diligence
If Robin Hood robbed the rich to give to the poor, the modern-day version is now in the business of gutting the sheep and pocketing the wealth of the retail speculator for himself. Fleecing at least. "Robinhood is democratizing finance for all," reads the prospectus. Sure.

Robinhood, who in December paid a $65 million fine (without admitting or denying guilt, wink) for best execution and payment for order flow alleged violations, will raise on the order of $2.3 billion from new shareholders in its upcoming IPO. What does The IPO investor get?

The expected $2.3B brought to the party by new shareholders represents almost 30% of all of capital raised since 2013, including proceeds raised in the offering. For their money these new "investors" will only own 7% of the company and far less voting rights. Dilution, baby.

Including proceeds from the IPO, the VAST MAJORITY of capital will have been raised just in the past two years, mostly 2021. Reread the breakdown of how much capital the IPO buyers are investing and what percent of the company they will own. This makes SPACs look non-dilutive.
He closes with this:
This is massive dilution and delusion about valuing a retail broker. Rob from the unsuspecting… is sadly the new Robin Hood. . The IPO is what it is. The way the company makes money, on the other hand is not what it -seems. Source: MishTalk
3- RobinHood: What happened during the actual IPO? It was a disaster.
Post Mortem From ZH Thursday:
Update (1230ET): HOOD is trading with a $33 handle now, well below its $38 IPO price…
As we reported last night, Robinhood sold 55 million shares at $38 (the low end of its marketed price range of $38 to $42 per share), as the popular trading platform met tepid demand for its highly anticipated debut.
At that price ($38 per share), Robinhood raised $2.1 billion and achieve a market valuation of more than $31 billion.
There was a lot of chatter in the pre-market about Goldman having issues getting the deal fully allocated but nothing, obviously, was confirmed; and as a reminder, for Robinhood's own IPO, the company has stated that it plans to sell its users between 20% and 35% of its IPO shares through the app's IPO Access feature. - Source: Zerohedge
Robinhood CEO Vlad Tenev on the day of the IPO:
"In 5 years we want Robinhood to be the most trusted and most culturally relevant app worldwide"
What culture is that? We wonder.
4. Technicals
Report Excerpts Courtesy MoorAnalytics.com
Gold
Upside: Upside: Sell against $1,845.7-7.5 as possible exhaustion. Sell against $1,854.6-6.6 as possible exhaustion. Sell against $1,871.8-4.0. If we break above here and back below, look for short covering.
Downside: Get short below $1,825.9. Buy against/into $1,812.0-0.7; get short below. Buy against $1,799.0 (-1.2 tics per/hour starting at 8:20am); get short on a decent penetration and/or pullback below and look for decent pressure to come in. Get short below $1,790.7-89.1. If we break below here, or even just below $1,790.7 and back above, look for short covering to come in. If we break below $1,778.2 and back above, look for short covering. Buy against $1,768.0-7.6. If we break below and back above, look for short covering.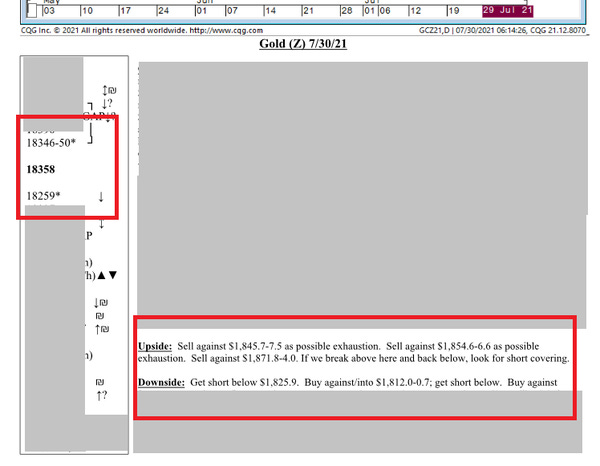 Gold Redacted
Bitcoin
On a lower timeframe basis: Decent trade above $40,115 (-15 per/hour starting at 6:00pm) Sunday will project this upward $1,300 minimum, $4,500 (+) maximum; but if we break above here decently and back below decently, look for decent pressure.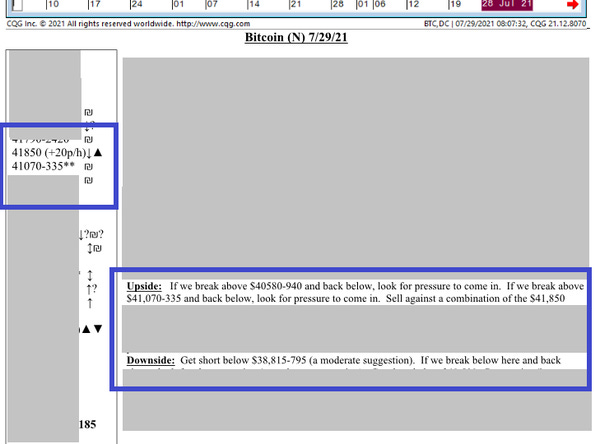 Bitcoin redacted
Go to MoorAnalytics.com for 2 weeks Gold, Oil, and Bitcoin reports free
5. Tools
The 2% Rule in Gold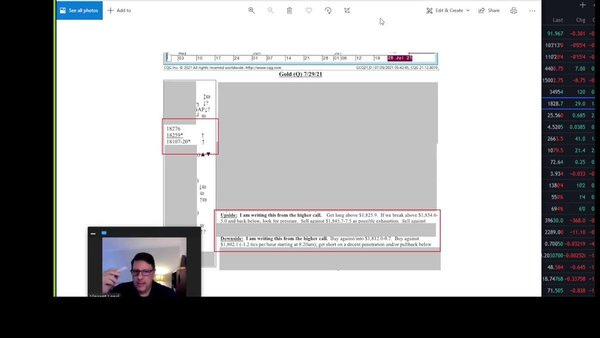 CLIP: Gold is up 2%. Here's the rule of thumb https://t.co/MCGB6julTV
Selling a Call: Definition, Uses, Risks, and Option Greeks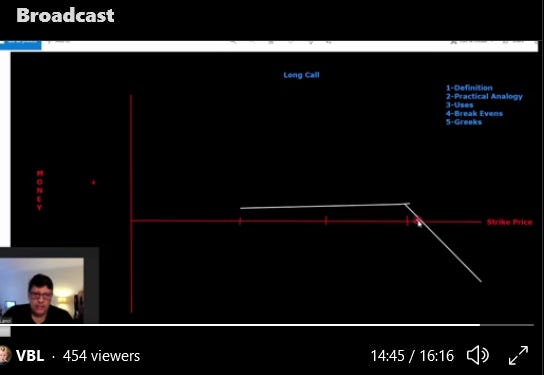 Sunday Mock Trading: 3p.m.- 5p.m. ET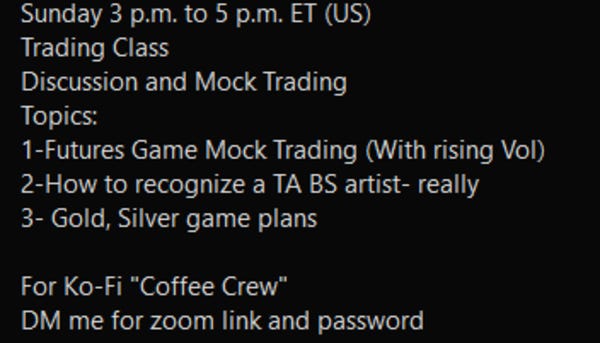 Follow on twitter and message for info
6. Charts
Gold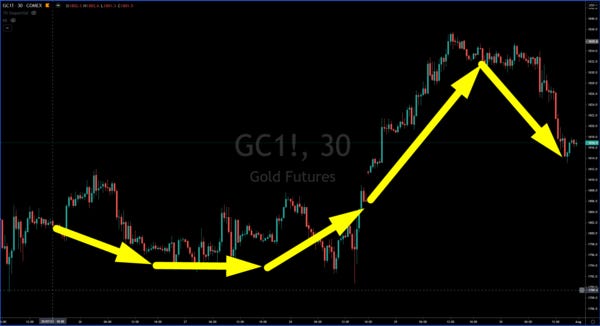 Strong then knocked back
Silver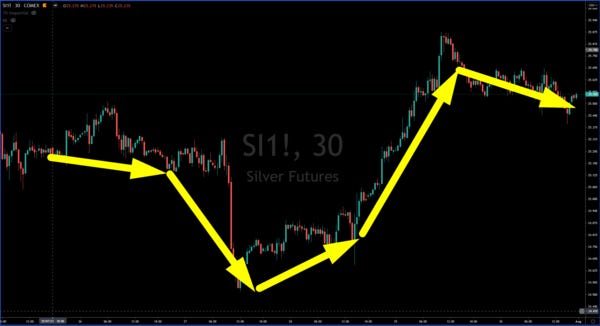 Sold off then recoupld with Gold
US Dollar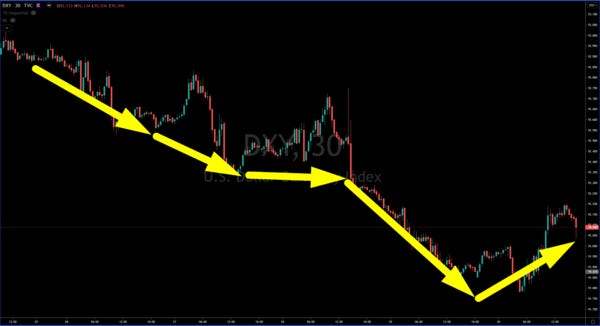 Lower with a bounce
Bonds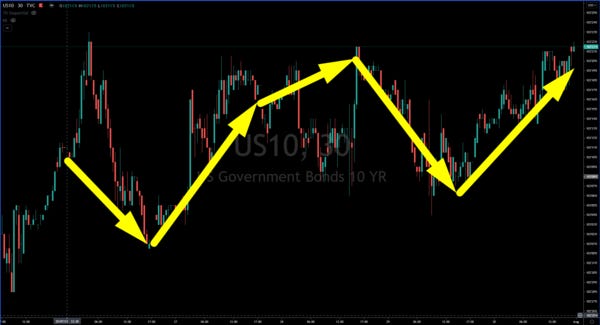 Choppy and Firmer
Treasury Inflation Protected Bonds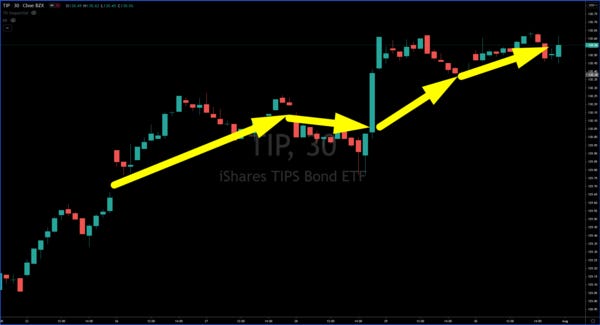 Inflation Expectations Steady to Higher
7. Calendar
Some of the upcoming week's key data releases and market events
MONDAY, AUG. 2
9:45 am Markit manufacturing PMI (final) July

10 am ISM manufacturing index July

10 am Construction spending June
TUESDAY, AUG. 3
10 am Factory orders June

Varies Motor vehicle sales July
WEDNESDAY, AUG. 4
8:15 am ADP employment report July

9:45 am Markit services PMI (final) July

10 am ISM services index July
THURSDAY, AUG. 5
8:30 am Initial jobless claims (regular state program) July 31

8:30 am Continuing jobless claims (regular state program) July 24

8:30 am Trade deficit June
FRIDAY, AUG. 6
8:30 am Nonfarm payrolls July

8:30 am Unemployment rate July

8:30 am Average hourly earnings July

10 am Wholesale inventories June

3 pm Consumer credit June
Main Source: MarketWatch
Subscribe for Mailbox Delivery Here
China's Communist Party is Protecting Investors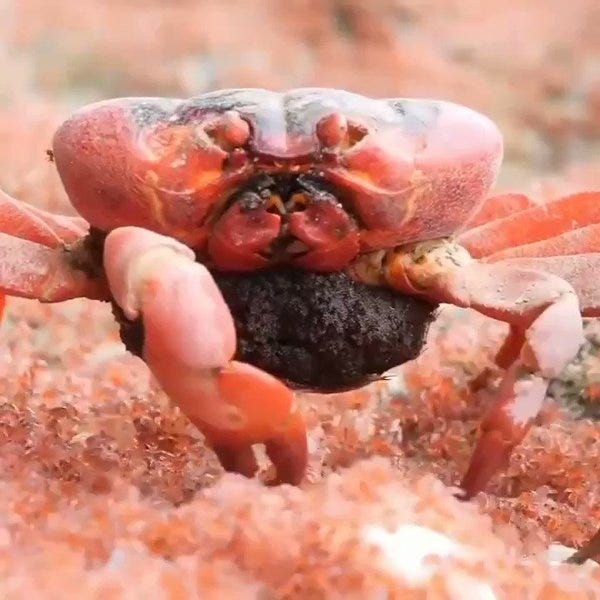 CCP China using capital controls to protect its citizens https://t.co/s8E0fYHyOv
8. Disclaimer
Disclaimer : Nobody is telling you to do anything here. Anybody who tells you to do something without first intimately knowing your personal situation is irresponsible at best and manipulative at worst. Worse, anyone who acts on other people's opinions without first doing an inventory of their own situation shouldn't be surprised if they lose money.
Don't miss out on the other issues by VBL
Become a member for $30 per month
You can manage your subscription here.
If you don't want these updates anymore, please unsubscribe here.
If you were forwarded this newsletter and you like it, you can subscribe here.
Created with Revue by Twitter.