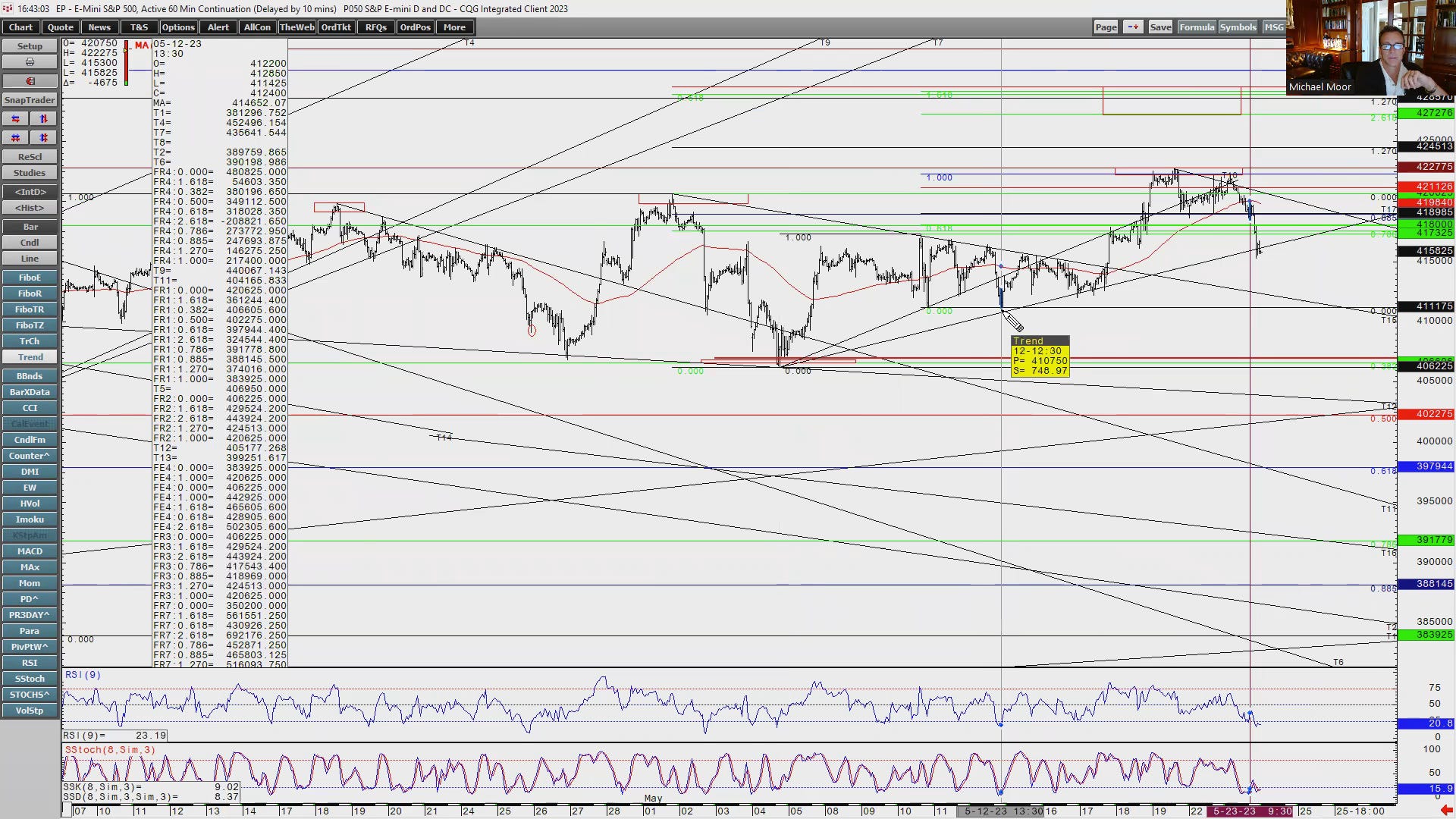 Moor Technical Podcast for Gold, S&P, and Bitcoin
May 24th Trading
 Moor Trading Level Excerpts:
About Michael Moor's Work: Moor Analytics produces technically based market analysis and actionable trading suggestions. Reports are sent to clients twice daily, pre-open and post close.
Note: Michael puts out  specific actionable trading levels twice daily for Gold, the whole Oil complex, S&P 500 and Bitcoin. If you are a serious technical  and/or day-trader type we recommend his work without reservation. Go 

here
TFA Energy Morning Highlights – 5/24/2023 
via Brynne Kelly
Crude oil futures in European trading hours Wednesday were higher for a third straight session after Saudi Arabia's Energy Minister triggered a 'relief rally' after issuing a warning to short sellers.
The Saudi Minister said, "I keep advising them that they will be ouching – they did ouch in April", which analysts took as a signal the Kingdom is not comfortable with oil near the low-$70s and will likely support further production cuts if it looks like oil prices could be heading back to the mid-$60s. 
"A warning to markets from Saudi Arabia triggered a relief rally in crude oil. Energy Minister Prince Abdulaziz bin Salman told oil speculators to "watch out", raising the specter of OPEC further intervening in the oil market to support prices," said Saxo in its latest client note. 
"Once again, he reiterated that OPEC+ through its actions seeks stability more than targeting a certain price level or range," added Saxo.
Markets also found support from American Petroleum Institute data released late Tuesday, which revealed a fall in US commercial crude inventories of 6.8 million barrels last week, while gasoline stocks fell by 6.4 million barrels and distillate stocks posted 1.8-million-barrel draw.
Today's July WTI Pivot Level = $72.80
NOTABLE OVERNIGHT HEADLINES
* Two injured in fire at CVR's Oklahoma refinery  
* Russia won't ban gasoline exports, they may only limit it - TASS 
* Hong Kong to swelter at 34 degrees Celsius early next week as region feels effects of Super Typhoon Mawar, city forecaster says
* China's President Xi wants to take cooperation with Russia to a higher level - CCTV.
* Russia, China seal economic pacts despite Western disapproval
* UK offshore strikes to resume next month, rises to 1,650 contractors
* EU banks are said to sail through early round of stress tests.
* IMF's Managing Director Georgieva: Rates won't start to fall until 2024, early 2025.
* IMF's Managing Director Georgieva: We don't expect a rapid shift in dollar's reserves, 'don't kiss your dollars goodbye yet'.
* Nayara Energy exports dip, just 0.07 mn tonne diesel flows to Europe in FY23
* Goldman Sachs yesterday said commodity inventories, from grains to oil, are declining faster than ever as investors cash-in on physical and financial hedges, setting markets up for a sharp rise later this year if major economies avert a recession.
The full video is for paid subscribers